Prescott Hardwood Floor Installation Portfolio
Martens: 7″ French Oak – Prescott Lakes
Project: Martens
Location: Prescott Lakes, Prescott
Materials: French Oak
Notes: This is a beautiful 7″ wide French Oak from the California Classics line, wire-brushed and finished with a low-sheen. This project required extra prep as the house was built on a combination of a concrete slab and a wood subfloor, thus requiring the hardwood floor to be both nailed and glued down. In addition to stairs, the crowning touch is, of course, an exquisite granite and porcelain inlay in the entry, which required a lot of custom work and patience to get to sit perfectly flush and square. It is challenging but fun to take on these extra creative elements in a wood floor and leaves an impression on everyone who walks in that house for many, many years.
"Once in a rare while, you have a opportunity to encounter a great artisan/craftsman!
When we decided to replace carpeting and ceramic tile on our entire main floor living space, Desert Hardwood Flooring was enthusiastically recommended by Ms. Sandy Griffis of YCCA (Yavapai County Contractors Association.)
Owner, Sylvan Incao, of Desert Hardwood Flooring is an extremely detailed and articulate individual who painstakingly measures for precise dimensions with perfect results.
Sylvan and his assistant, Jesse, arrived at the pre-arranged time each morning and before they called it quits for the day, cleaned up both interior and exterior work areas.
To keep our expert workers happy and nourished, each day we provided hot lunches and snacks to replenish all those burnt calories used to install the fabulous wood floors and creative entry way tile insert.
Needing new floors? Look no further than Desert Hardwood Flooring and hire the BEST!!!
Thank you, Sylvan, for your dedication to your craft as well as being an honest and outstanding professional!!"
— Carl and Barbara, Prescott, AZ
---
Hoover: 1/2″ Maple w/ medallion, curved stairs – Prescott
Project: Hoover
Location: The Ranch, Prescott
Materials: 1/2″ x 7″ engineered maple, handscraped. Medallion of walnut, ash inset in entry.
Notes: This project was 2,300 sf of engineered stained maple, installed in every room. It posed some unique creative challenges as the customer wanted to change existing square stairs into curved stairs. This entailed framing out the risers and then having custom curved treads and risers made out of the same maple flooring we were installing in the rest of the house. The customer also requested a custom wood medallion be placed in the entry. We had this medallion ordered to fit the thickness, style and look of our wood floor, and the result was stunning.
" I and my wife Linda were extremely pleased with the professionalism and quality of work Sylvan provided. He followed up immediately if you had a question or problem. We had a 2600 ft plus of wood flooring, plus base with two sets of stairs,one of those stairs we wanted radius-ed. Sylvan built the radius stairs and template d them to perfection. We would not hesitate to recommend him or give a recommendation. I was a construction General Superintendent for the later years of my career in construction, I have worked with plenty of sub-contractors and contractors. Sylvan is the real deal, the job was virtually seamless and I would be happy to hire him anytime if needed. A real professional!"
— Richard & Linda Hoover
---
Weiss: 1/2″ Random width Hickory – Prescott
Project: Weiss
Location: Prescott
Materials: Hickory, 1/2″ Random width: 4, 6, 8.
Notes: This is a beautiful, warm, stained hickory that comes in three random widths and many random lengths. We removed carpet, laminate and old vinyl to transform this house with new wood flooring. Living areas remained carpet and accented nicely surrounded by wood. Nail-down to wood sub.
" My wife & I have been married for nearly 55 years, and in that time, we have built several homes and remodeled many more. When we came to Prescott several months ago, we bought a lovely 20 year old home. One of the big voids was quality wood flooring. We were lucky enough to meet Sylvan at the Fall Home Show in Prescott Valley. We checked him out with the contractor's association and he passed with flying colors.
Sylvan, first of all, is an artist. It was amazing to watch him figure out difficult angles and create a beautiful finished product. We now have approximately 1,200 square feet of beautiful random width, engineered Hickory wood flooring.
Sylvan and his helper were always on time and did a complete clean up each night of our 9 day construction project.
Bottom line: If you want the best — hire Sylvan Incao, owner of Desert Hardwood Flooring."
— S & S Weiss, Prescott, AZ
---
Dement: 3/8″ Birch Engineered – Granite Oaks, Prescott
Project: Dement
Location: Granite Oaks, Prescott
Materials: Birch, 3/8″ engineered & stained
Notes: This living room ran at a diagonal to the rest of the house, making a nice accent against the fireplace and tiled dining room & kitchen. To match the height of existing tile over concrete we had to limit our choices to engineered wood of 3/8″ thickness only, thus avoiding any transition wood trims.
" Sylvan was recommended to us by two different home owners. He laid our great room which was done so professionally that we had him come back and install the same wood in our office area.
No muss or fuss. He is there when he says he will be. He cleans up after each day. Which is a biggie, but his workmanship is "Perfect." A "10"
I would highly recommend him."
— Payton & Joanne Dement, Prescott
---
Jeppson: Handscraped Maple – with BEFORE/DURING/AFTER Project photos!
Project: Jeppson
Location: Pronghorn Ranch, Prescott Valley
Material: Urban Floor / Maple Sunset / Handscraped Series – 9/16 x 5″, random lengths
Notes: 1,200 sf of new wood installation. This project included 460 sf of tile tear-out – a loud and messy job. As the Jeppsons were still living in the house during the work, we had to take great care to isolate work areas and protect the rest of the house from dust and debris as much as possible. Cabinets, counter tops, and adjoining rooms were all sealed off in plastic during the tile tear-out phase. When the wood installation began we worked room by room, completing one area completely before tearing out old flooring and moving furniture in the next area, so that the house could remain as liveable as possible. Below you can see before, during and after photos of this project.
BEFORE… existing white tile flooring
THE PREP… covering/protecting cabinets, isolating off rooms
THE PREP… tile & thinset tear-out
READY FOR WOOD… surfaces cleaned & vacuumed, plastic removed
THE INSTALLATION… spreading glue & setting the first courses of wood
THE INSTALLATION… moving from the kitchen into the living room
AFTER!
(customer also got new granite countertops and repainted the walls)
AFTER!
(including some custom tile work set around the fireplace and into the wood floor – also by Desert Hardwood Flooring)
September 27, 2015
Sylvan,
We just wanted to express our gratitude for the beautiful job you did on our floors & fireplace. We considered a Big Box store – thankfully we found you. You made the process so easy for us, as we had never done such major work to our home.
We thought choosing the wood flooring would be so difficult, but you made our choices easy with your knowledge and experience. The care and thought you put into exactly how it was to be laid was amazing and turned out better than we envisioned.
Loved the wood floors, tile in baths and the fireplace turned out awesome.
Again, thanks for a great job and we loved that you took extra care with covering and keeping the mess of broken tile under control. I was concerned with my breathing issues but never had a problem. Also Sylvan – most installers don't consider the owners belongings – nice that you took as much care with mine as you did with your own tools. We so enjoyed watching you lay everything out and how neat and organized you were in my big mess.
"Almost" wish we could do it again!
Thanks and blessings to you and your family,
fondly,
– Ted & Sue Jeppson
---
Price: 3/8″ engineered distressed oak – Prescott
Project: Price
Location: Wildwood, Prescott
Materials: Distressed oak, ⅜" engineered
Notes: This project entailed glue-down over concrete in the entire house excepting kitchen and baths. The client wanted the new wood floor to sit flush with existing tile in several areas, so we chose a ⅜" thick engineered wood, which worked perfectly, and allowed us to avoid the use of any trims.
" Susan and I want to thank you for the excellent job you did on our floors. The oak wood is absolutely beautiful, and reflects your skill and craftsmanship.
All of the rooms turned out great as the result of your meticulous attention to detail.
The entire project from the initial estimate to the finished product was a pleasant experience.
We enjoyed meeting you and having you in our home."
— Bill & Susan Price, Prescott
---
Ravenkamp: Wild Hickory, 1/2 " engineered – Prescott
Project: Ravenkamp
Location: Granite Oaks, Prescott
Materials: Wild Hickory, ½" hybrid engineered
Notes: This project began with new hardwood flooring in the kitchen & dining areas, then later included an upper apartment dining & living room. Tearout of carpet and installation over a wood subfloor. This flooring has a high density fiberboard core and a lifetime structural warranty.
" Sylvan Incao equals impeccable craftsmanship, tidy and compact worksite at the end of each day, and limited intrusion into the normal routine of your household.
My experience over 17 years on several different jobs has all been plusses!"
— Mary Ravenkamp, Prescott
---
Deloof: American Hickory, 1/2 " engineered – Prescott
Project: DeLoof
Location: Granite Oaks, Prescott
Materials: American Hickory, ½" engineered
Notes: This was a beautiful varied wood to work with. The DeLoofs were particular in the placement of knots and dramatic elements in the wood, helping to separate out the more unique boards. Placing them in the high visibility areas was a creative endeavor.
" We retained Sylvan Incao for several jobs, including two flooring jobs. The first was the installation of some 1500 square feet of natural hickory hardwood floors.
Sylvan handled himself as a true professional far better than any other contractors we've experienced in the past. First of all his craftsmanship is impeccable but additionall yhis communication skills and work ethic is the way all contractors should aspire to be. He was always on time and communicated each day when he would arrive.
Mr. Incao not only cared for his workmanship but also our personal needs such as a clean work environment and making sure our dog would not escape as he came in and out of the house.
Sylvan, we thank you again for the work you've done for us and hope we can use you in the future."
— Christian and Debi DeLoof, Granite Oaks – Prescott
---
Project: Linda Baker
Location: Granville, Prescott Valley
Materials: Birch, ½" handscraped, random width
Notes: This is a beautiful handscraped, random width plank (three different widths). Installation was glued down to concrete throughout the entire house, and replaced old laminate and tile. The change was dramatic and stunning.
" I contracted with Sylvan Incao to install hardwood flooring throughout my home.
Sylvan did a very professional job and the flooring exceeded my expectations. He always arrived when he said he would, was meticulous in his work (a true artist) and always made sure everything was cleaned up as much as possible at the end of the day.
I would highly recommend Sylvan to anyone who wants a real professional job done by an expert."
— Linda Baker, Prescott Valley
---
Project: Rita & Don Mackey
Location: Pinion Oaks, Prescott
Materials: Hickory, ½" handscraped plank
Notes: This living room was transformed with the addition of this warm, rustic wood floor. The prep required two extra steps: 1) undercutting the stone fireplace so that the wood could fit under the stone, & 2) floating the wood subfloor up to ½ inch from the level of the tile, so that the finished wood floor sat flush with the tile without any trim necessary.
"In August of 2015 we had Desert Hardwood Flooring install our new hardwood flooring.
Sylvan, the owner, did the work himself and even helped us move the furniture.
He was very professional and did a beautiful job. We couldn't be more satisfied with his work."
— Rita & Don Mackey, Prescott
---
Project: Hyde
Location: Williamson Valley, Prescott
Materials: ¾" Oak, solid composite plank
Notes: The Hyde's employed Desert Hardwood Flooring for a complete top to bottom renovation – including wood flooring on three levels with three stairways (two of which were curved), tile, marble shower surrounds, paint & stain work, and more.
"We needed to update our older home – Sylvan installed hardwood floors and curved stairs, and marble in the entry and showers.
Sylvan's attention to detail was immediately apparent.
He has the honesty and reliability of the days when a handshake was a man's word.
A pleasure to work with."
— Doug Hyde, Williamson Valley, Prescott

---
Leveron: Waterproof vinyl plank – Pronghorn Ranch, Prescott Valley
Project: Leveron

Location: Pronghorn Ranch, Prescott Valley
Materials: Waterproof laminate / vinyl plank
Notes: We were poised to install one room of laminate when the Leverons suffered a massive flood, ruining all their flooring. The new choice was a waterproof laminate (vinyl plank) which has a tough and authentic wood look and feel under foot.
"My husband and I have at various times been asked to write up a testimonial for someone who has performed a job in our home. We have done it but usually with some reservations. We have avoided those areas.
This time, we can honestly say that the work done in our home by Sylvan Incao of Desert Hardwood Flooring was superb. He is an artist when it comes to laying flooring. He went so far as to ensure that when looking from room to room the flow and layout was perfect. Without hesitation we will call Sylvan again if the need arises."
— Gene & Marty Leveron, Pronghorn Ranch, Prescott Valley
---
Neuls: American Cherry Engineered w/ Inlays – Chino Valley
Niemic: Maple 1/2″ Engineered – Prescott
Dunn: Solid Bamboo, horizontal strand – Prescott
Dunn: Natural Cork planks – Prescott
---
Parker: Oak Engineered Narrow Plank – Prescott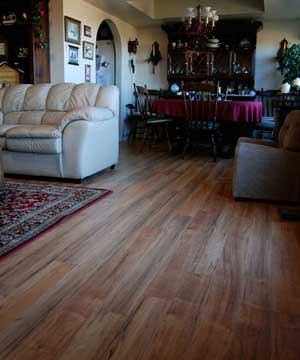 Smith: Laminate / Wilsonart Tapestry Maple – Prescott
Newman: Laminate / Berry Floor Oxford Oak – Prescott Valley