Installation Services
The quality of the service and installation process is the most important aspect of any flooring project. Many flooring stores sell the same products, but few take the care and attention to "doing things right" the way Desert Hardwood Flooring does. At Desert Hardwood Flooring in Prescott, AZ, we'll take care of everything. From helping you select flooring, through the daily installation process, to installing felt pads on all your furniture's feet to protect your new floor - we'll be there. Learn about our installation services below and contact us to get started.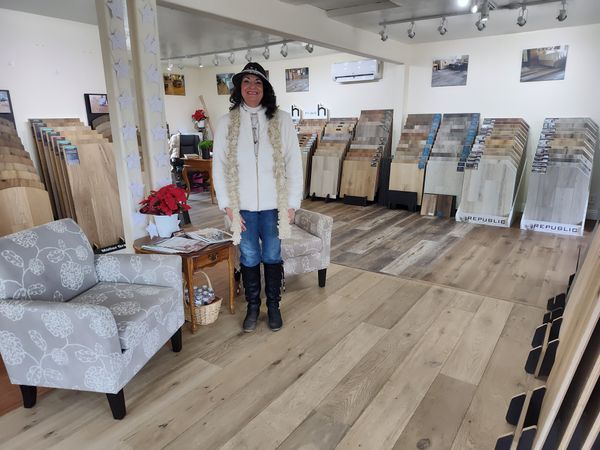 Choosing the Right Flooring
The first step in on the road to getting new flooring is to come into our showroom at 947 Fair St. in Prescott AZ. Here we can educate you about the three main different types of flooring that we sell and install: hardwood flooring, vinyl plank (waterproof) flooring and laminate or pergo flooring. We'll send you home with large samples so you can see the actual flooring in the light of your home, next to your furniture and décor. We do not sell or install carpet or tile. To learn more about the different flooring types, please visit our products page. In our showroom we have a selection of our favorite manufacturers and collections, many that we have been selling and installing for years. We know these companies, their quality standards and warrantees, and are willing to stand behind them. As a small company, we are the bottom line, so we make sure that we are confident in the quality of what we sell. If you have difficulty making it into our showroom let us know and we will be happy to bring samples to you! If you are out of town there are also ways to see real samples, just ask.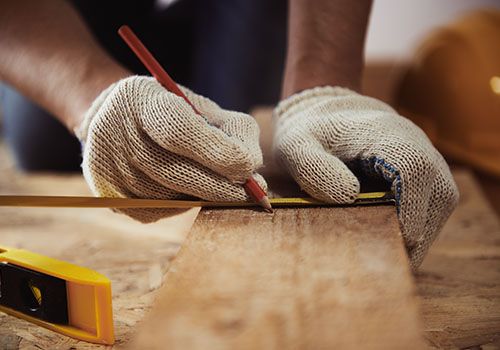 Measuring and Preparing the Bid
The next step in the process is for Sylvan or Nic to come out to your home or building and measure up the floor area. This is another good opportunity to ask us questions about the process, and learn and understand what is involved. Here we will take the measurements we need, taking note of things like moving furniture, demo and removal of existing flooring, removing and replacing baseboards, and more. All these elements will go into the bid. We will also do our best to assess your subfloor and its condition. Subfloor prep is an essential part of the job. More accurately seeing what is needed will happen after your old flooring has been removed. Once you have decided on a flooring style/color and we have our measurements, then we will prepare the bid and typically email it out to you within 2-3 days. If there is any delay in getting back to you we will let you know. Once you receive the bid and review it we can answer any further questions you may have, make adjustments or changes, etc.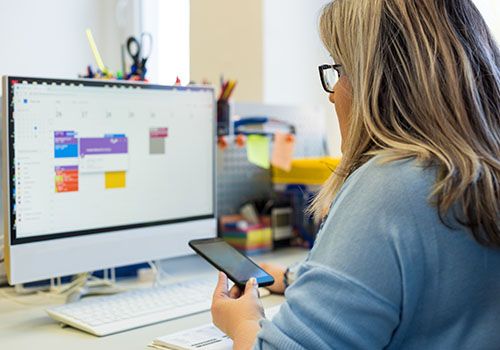 Next Steps and Scheduling Installation
Communication is key! We will endeavor to always maintain open and clear communication with you about the flooring installation process, so you know what to expect and have all your questions answered. Once you decide to use Desert Hardwood Flooring for your project, we will require a deposit to cover the cost of the materials. This is usually around 50% of the job and will be listed on your proposal as the "material total." Once we have your deposit we will order your flooring, get it on its way to our warehouse, and put you on the schedule. The installation schedule can be booked out from several weeks up to several months. We start by putting you on the schedule in the next available slot, provided this does not conflict with your being out of town, etc. As we draw closer to the date it is very common for this time slot to shift. Some projects take longer than expected, some move more quickly, so we are always adjusting the schedule. As we get several weeks away we will touch base with you to make sure that the timing works. You may also check in with us at any time and we can update you.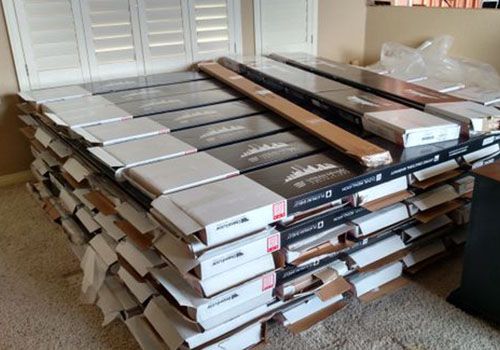 Delivering Your Materials for Acclimation
We'll arrange in advance with you a time and date for materials to be delivered to your home or business as it could be different than the installation day. If you are getting hardwood installed, please contact us for more information about the acclimation rules.
For wood flooring jobs, we will arrange to bring out your engineered wood flooring 3 or more days ahead of installation so that the flooring can acclimate in the house. For a solid wood floor 7-10 days will be needed. For vinyl plank flooring or laminate flooring acclimation is not necessary. Acclimation needs to take place inside the house where the installation is occurring, and will usually take up about a 7' x 7' space. Acclimation cannot be done in the garage or in a room without heat or AC. Also, if you use a humidity control system it should be running during acclimation.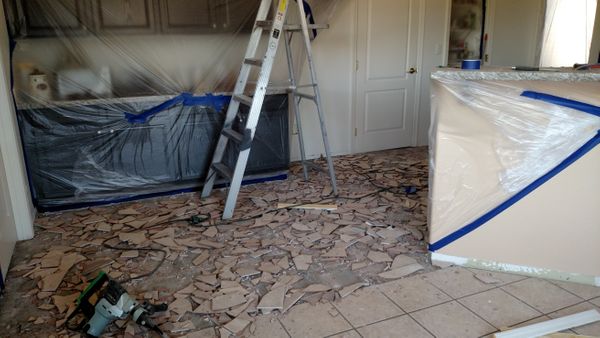 Demo & the Importance of Floor Prep
After moving furniture out of the way, the job typically begins with demo, or demolition/removal of the existing flooring. Bear in mind that if we are removing wood flooring or tile that this will be fairly loud and will create dust. We will take great care to cover furniture and cabinets with plastic, and we also have very high quality HEPA filter vacuums attached to our demo tools. This goes a long way to keep the dust down, but even with this it would be misleading to not expect some dust from tile demo. Wood flooring removal has a little dust, and carpet removal almost none. Once old flooring is removed we will assess the subfloor and begin floor prep. Every subfloor needs some amount of floor prep, and expecting this we will always include this in our bid. If we are aware of unusual subfloor issues ahead of time like cracking and shifting of the slab, high or low spots, etc. we will typically add this cost into your bid. However we almost always expect to have to do some grinding down of high spots, some filling of lows. This is a critical time to take the proper care before your new flooring goes down. A subfloor that has not been properly prepared and issues remedies will cause trouble or even failures in your flooring down the road. Other aspects of floor prep include: undercutting door jambs so that the flooring can slide underneath; undercutting stone facades and fireplaces so flooring can slide underneath; shimming the subfloor if necessary to ensure that the new floor meets up with existing flooring perfectly flush if possible, to avoid the use of transition trims whenever possible.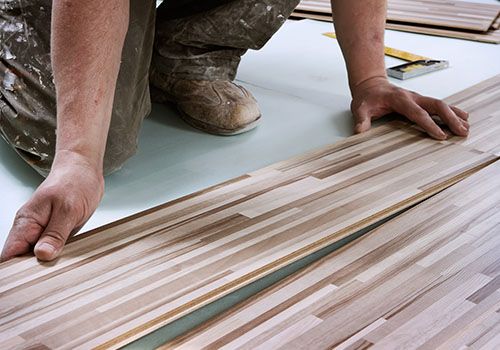 The Daily Schedule
The installation crew will generally work from 8-4 each day. We will keep you in the loop if there are any changes to this schedule. Prior to arriving for installation we will ask you to move all small breakable items, remove books and such from shelves, low hanging clothes, and bedding, etc. We will do all the heavy lifting, i.e. move all the large pieces of furniture. We will also replace these upon completion of the floor. If we are doing several rooms or even the entire house please understand that you do not need to leave your home. Most times we can work room by room, starting at one end of the house and moving across to the other, so that when one area is complete you can move back into this area while we continue to work into new areas. Often large furniture will not even leave the room, but get moved to one side or the other as the work progresses. This is easier for us, and easier for you too when it comes time to move back in. There is no piece of furniture that we have ever been unable to move – safes, pianos, etc. Work will start with the demolition and removal of the current flooring, removing of the existing baseboards, floor prep, and then get started installing the new flooring.
Clean-Up and Completion
After we complete the installation of your new flooring, we'll clean up everything, vacuum the new floors and put the room back together. We'll carefully inspect everything before our final departure.
Contact our team at Desert Hardwood Flooring to get started with new flooring installation in Prescott!
We will give you an estimate ahead of time as to how long we think your project will take to complete. Along the way this may change slightly, but you can always get an update from any of the installers as the work progresses. Most types of flooring can be walked on immediately after installation, so once a room is put back together you are free to move back in. The exception is glue-down wood flooring, which needs overnight (4-8 hours) to dry before traffic.
Clean-up of the work area will occur daily and trash and demo materials will be hauled off to the dump periodically. The final clean-up will include vacuuming all floors and work areas, leaving things as spotless as we found them. Glue-down wood floors also will be wiped down in the final stage. The last step will be to put your furniture back in place. During this process we will inspect the bottoms of the furniture feet and install felt stick-on furniture pads on everything. This will help protect your new floors from the dangers of scratching due to sliding furniture. We will make every effort to leave your home better than we found it, with a beautiful, durable and elegant new floor. If we've missed any detail, please don't hesitate to mention it!
CLICK ON THESE ICONS TO LEAVE A REVIEW!