RELIABILITY, CRAFTSMANSHIP & ATTENTION TO DETAIL
HARDWOOD, LAMINATE & VINYL PLANK FLOORING SALES & INSTALLATION SERVING THE PRESCOTT AREA & NORTHERN ARIZONA FOR 20 YEARS. VISIT OUR SHOWROOM, OR WE'LL BRING SAMPLES TO YOU!
Top Rated Local Flooring company
Beautiful and long-lasting hardwood, vinyl plank or laminate floors are a timeless choice for any room in your home. From your entryway to your kitchen, stairs, or bedroom, Desert Hardwood Flooring is here to help you every step of the way. Our hardwood flooring professionals in Prescott, AZ take care of you throughout the process, from choosing the right floor at our showroom to installation. Having your floors expertly installed by our team means that your floors will look amazing and leave a lasting impression and value. Stop by our showroom in Prescott today to get assistance and explore our large selection of various flooring types or contact us today for a free estimate.
ABOUT US
Desert Hardwood Flooring specializes in hardwood, laminate, and vinyl plank flooring, both sales and installation, and is dedicated to craftsmanship, quality, and reliability. We serve all of northern Arizona including Prescott, Prescott Valley, Chino Valley and Sedona. Desert Hardwood Flooring is owned and operated by Sylvan Incao, a local resident since 1992. We are passionate about bringing the enduring beauty, elegance, and functionality of pre-finished hardwood flooring, vinyl plank or laminate to your home. Whether it's a rustic wide-plank European oak, a durable wood-look laminate, or the tough waterproof vinyl plank flooring, hard-surface flooring is becoming more and more popular and practical today. Everyone should have wood floors!
OUR SERVICES
At Desert Hardwood Flooring, we are intent on giving you an easeful and great flooring experience and are proud to have worked in the Prescott area with many local businesses, builders, and homeowners for over 20 years. We offer a large selection of samples available for you to sign out and take home through our brick-and-mortar showroom. Here you can also see installed examples of the premium flooring materials we provide on our own showroom floor. Additionally, our installation is top rated and focuses on the highest-quality results whether for hardwood, luxury vinyl plank, or laminate flooring. Our comprehensive services have been recognized throughout Prescott and we look forward to working with you soon!
EXPERT HARDWOOD FLOOR INSTALLATION IN PRESCOTT
Desert Hardwood Flooring is the highest-rated flooring installation company in Northern Arizona. We believe in doing the absolute best job possible for you — our customers. This begins with the initial education and choosing the best floor for your needs, encouraging you to borrow samples and look at them in your own home, until you are 100% sure of your choice. The job itself must be completed with care, maintaining a clean worksite and a prompt and reliable work ethic. Finally, the craftsmanship of our installation must be unexcelled. This is the most important part. Anyone can sell you flooring — but we pride ourselves on our craft, and make sure that no shortcuts are taken in the thorough preparation and meticulous installation of each floor. Hardwood floor installation is a big investment, and the quality of the installation is the most important part! You can rest easy with Desert Hardwood Flooring. Just reach out to us for the best hardwood floors in the Prescott area!
USE THE BEST – DESERT HARDWOOD FLOORING.
"DON'T GO ANYWHERE ELSE FOR FLOORING!"
Sylvan is so professional. He has a storefront where we viewed flooring, and then came to our new home where we could actually see how the new flooring looked. We decided on a newer type of flooring, Johnson Premium Hardwood flooring, Farmhouse Manor. It is waterproof, pet proof and durable. He and his team installed in a very timely manner, coordinating with multiple other contractors on our remodel. It looks great! We couldn't be more pleased! Don't go anywhere else for flooring!
- Judy Beagle
"EXCELLENT"
Sabina and I are extremely pleased with the outcome of our new MB flooring installed by Sylvan and his team…The professionalism, timeliness, and attention to detail demonstrated by Sylvan during our project was excellent. I would strongly recommend Sylvan and Desert Hardwood Flooring for any flooring projects.
- Karl Werckman
"VERY HIGH LEVEL OF PROFESSIONALISM"
Very high level of professionalism. Punctual. Clear communication. My new floors are outstanding in look and feel. Clean-up after each day was thorough. They even cleaned the area outside my house where work was done. I had many hours of video conferencing at home during the installation which needed as quiet an environment as possible. Sylvan was very accommodating and worked with me to plan the installation to help me with this. It was a much-appreciated success. I would unhesitatingly hire again and the same for recommending to others.
- John Fuhrman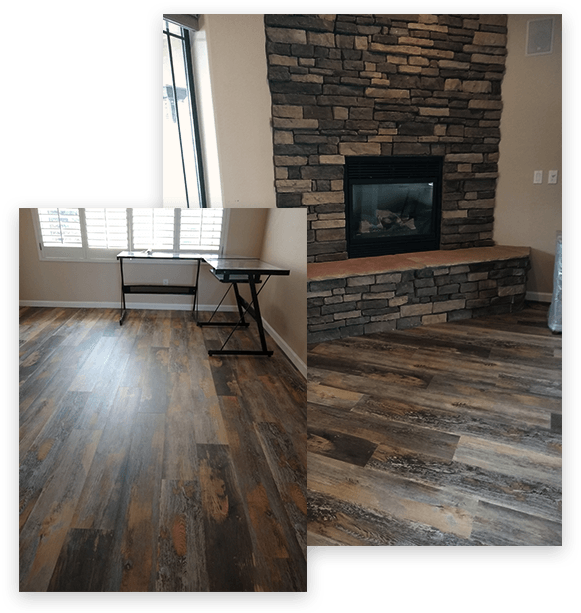 "AT THE TOP OF THE LIST OF THE BEST!"
Thank you Sylvan! We have already recommended you to two couples who will be replacing flooring in their homes. We are so delighted not only with the finished flooring and look but also with your professionalism, hands-on skill and product knowledge to make the correct recommendation for our needs. As a Realtor of 44 years in business, I have worked with many contractors and builders, you are at the top of the list of the best! I would be happy to answer any questions prospective clients may have. Thank you again, Tim & Sandie Anderson. - Tim Anderson
CLICK ON THESE ICONS TO LEAVE A REVIEW!